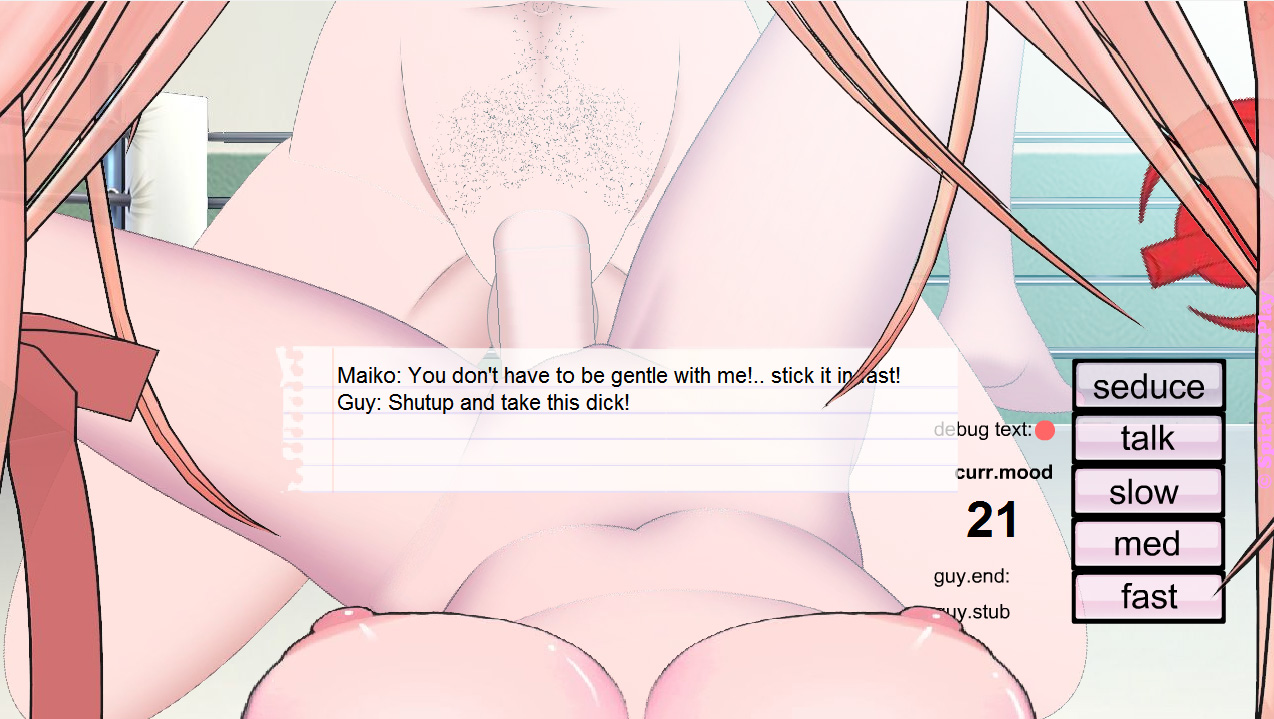 This is the second hentai minigame I plan to add to UMCH when playing as Maiko, assuming there are other playable characters.
The purpose of the pov sex is to reduce Maiko's mood to where she want's to participate in minigames and activities to earn money and build stats.
link: (this link has been changed to test #2)
Download
The objective is to reduce Maiko mood as much as possible without the guy's endurance going under zero. you do this buy requesting the guy to bang her at various speeds. you want to keep talking to him to make sure that he is not about to bust a nut in her. In this test I have Maiko's Max mood at 20.
Keep in mind this is a test so there is text in parentheses to help. also there is a debug button to show text.
condom mechanics are not programmed in yet but some of the code for it is already done.
Seduce – talk the guy into cumming. the guy will always cum if he is getting close. (5 or less)
Talk – Maiko talk to the guy and see what he says. The dialogue will reveal how close he is. Veterans of umichan games should recognize much of Maiko's text.
Slow – Maiko asks the guy to go into slow speed sex.
Med – Maiko asks the guy to go into medium speed sex.
Fast – Maiko asks the guy to go into fast speed sex.
In this demo the guy has random stats in the in game certain characters status will be adjustable before the sex starts based on dialogue options, a relationship stat, and his sex lvl, etc.
The guys stats in this demo are:
Stubbornness – can be from 5 to 85%, this is if the guy will do what Maiko says or do how own thing. the high the stat is the less likely he will follow Maiko's requests.
endurance – this is how long the guy will last before he cums.
going slow reduces the guys endurance by 1+(0 to 2) and improves(reduces) Maiko's mood by 1
going slow reduces the guys endurance by 3+(0 to 2) and improves(reduces) Maiko's mood by 2
going slow reduces the guys endurance by 6+(0 to 2) and improves(reduces) Maiko's mood by 3
notes:
I can usually only get about 10 or so mood points down before the guy is done.
I need to make the benefit of fast a little more. it will p[rob ably be changed to
fast = 5 mood benefit
med = 3
slow = 1
known issues:
you can make the guy cum at the start with only seduction.
the back buttons don't work (they are intentionally disabled, use the pink X button in the top right corner.)
___________________
update#1
changed the wording of mood to stress
slightly increased the guys potential starting stamina.
bug fix
stress is now reduced by
fast = 5
med = 3
slow = 1
previous it was
fast = 3
med = 2
slow = 1