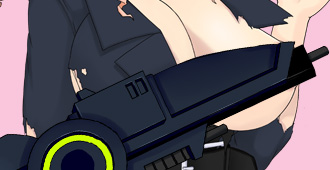 This iframe may cause lag if you lag try the direct browser link or the downloads.
[iframe src="http://spiralvortexplay.com/umaa3/index.html" width=990 height=563][/iframe]
walkthrough
green – avoid mines, and attack when invulnerable shield is not active
blue – side step the beam
purple – do not attack when hex aura is active
DOWNLOADS:
https://mega.nz/#F!UIxXBLLD!dCkoocbBtqaHzIXyoO6tPQ
make sure to unzip the contents first.
the game file is called "nw"
direct browser link (good for playing on mobile or experiencing lag)
http://spiralvortexplay.com/umaa3/index.html
build1:
at the moment for the shooter you will get 1 of 4 random gun types: pistol, uzi, assault rifle, and watergun.
also you can ignore the pool background. It was used just to help see the effects.
build2:
-bottom right corner is phone menu with Fight and Graphic Settings.
-press the circle at the bottom of the phone to close it.
-click at bottom of boobs to change outfits.
-click Jeni to see dialogue. some outfits cause dialogue to change.
-the pattie hentai scene for this intentionally vibrates because I removed a lot of those frames to make the game a smaller size. that animation will be replaced later.
-I plan to remove all vibrate/shake screen effects.
Graphic Settings icons (left):

shiny/twinkle – toggles projectile collision effects. turn off to help with performance.

Star fade and rotate – toggles if projectiles have animation. turn off to help with performance.
Agent icon – select what boss to fight in offense mode.
Star – select difficulty (1 – 3)
Shield/Sword – toggle defense/offense fight mechanics.
Gun – select what gun to use.
build3 (current):
-Added Green, Purple, and Blue agent fights.
-Add agent training outfit.
-Added a player Max Health setting on the phone menu.
-Certain outfits provide bonuses to man health.
-Updated most topdown and pov art assets.
-backend updating for the dialogue system.
-testing sprite strips for normal animations.