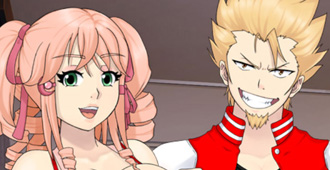 If you like this game please consider supporting the team on patreon!


[iframe src="http://spiralvortexplay.com/public/maikojoiry/" width=990 height=650][/iframe]
click the mouse button in the top right to continue. you may need to kinda spam click a bit on the image sequences.
Direct browser link:
[button color="blue" link="http://spiralvortexplay.com/public/maikojoiry/" target="_blank"]Browser[/button]
Direct link should work if you don't have iframes in your browser or are on a mobile device.
ttrop recently has proposed an idea to have at least some content animated in way that suits him better and requires less work on my part. The idea defenately has a lot of benefits to it but I wanted to see waht you all think about it also.
In the example game/app "Maiko Joiry" I display the proposed image sequence style animation vs the current gif style animation.
Please let us know which you like better and why by leaving a comment. and voting
https://www.strawpoll.me/17622565
I will have separate poll on my patreon also.
DOWNLOADS offline
[button color="blue" link="https://mega.nz/#!EZxjWaza!FnR72E3mukPWfS1lPWiUzSaolLUcfuHOUMkWh9_l7AE" target="_blank"]Windows[/button]
[button color="blue" link="https://mega.nz/#!kcwh0AqB!WLVMYEnb8L-tc2IYrZSEUdlrB5QISaG5t3eXFAQjzSU" target="_blank"]Mac[/button]

[button color="blue" link="https://mega.nz/#!FJw3nSxA!xhSEUd9tuWss1nrwIgUTkCD6VSafAs-cQ1wisJwsVN8″ target="_blank"]Android[/button]
Image sequence (frame by frame)
-lower frame rate (approx. 23 less frames)
-harder to implement in code
+takes less time to make overall from sketch to in the game
+higher quality art and shading
+total size is smaller than 1 gif loop
+can sync audio easily in html5
+able to use poses and angles that don't work well with bones
+no risk of the game engine lagging from trying to run high fps animations.
GIF animations
+smooth animations
+takes less time to implement in code
-takes longer to makes the animation requires the efforts of me, ttrop and jccq for a single loop.
-much lower quality art.
-gif uses less colors than jpg
-doesn't sync with audio
-restricted to certain poses and angles the work with bone animations
-much larger file size
-takes multiple gifs to make a scene
Currently the Umiya game is already slated to use gif loops. And if a game already has some in there then those will continue to have them. However games like UMAA is suffering from a number of animation issues as a struggle to look for ways to games smooth frames on both desktop and mobile without a huge loss in quality. Doing a animation sequence would be a solution for the problem in have with UMAA. If try this in UMAA it will use this and the top down animations also.