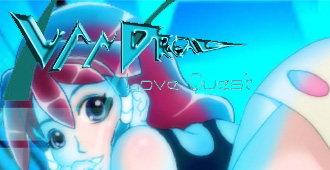 [swf src="http://www.spiralvortexplay.com/uploads/upload/56616e6472656164204c6f7665205175657374″ width=550 height=400]
Development for this game began sometime around 05/2007 by Overdrawn, Madpol1, and Vortex00.
Yet wasn't completed until 03/08/2010 by Vortex00.
Progress of this game's completion was slow, and off and on at best during the course of development due to various reasons.
This game was designed to raise the bar for "cookie-cutter" dating sims.
After surviving it's way through two computer failures, this game still managed to be completed despite the odds.
While not perfectly bug free, it still makes it case having much more content than many other sims of it's kind.
Many people wanted to see a sequel to this. But my efforts will mainly go into ARIA. In order for me to do any relevant work on this I'd have to redo all the graphics and character names. I don't want to bump into copyright issues; something that is very common when working with copyright anime characters and titles.
About Author