wanted to mention in kind of a check-up post what I have planned to do.
Firstly, I need to mention that didn't get as much done over the weekend as I had planed, I normally do a bulk of work on Sunday but was not able to this time unexpectedly. My parents decided to have a family gathering to see some relatives in town that I had seen in years so most of my week end was spent with family. you can expect the UMCH updates tomorrow or Wednesday. I may need to do a 2 part update like I did that one other month.
After UMCH I plan to add the hentai scenes in to Agent Trainer. After that I want to get the animation added into ARIA: Jailbreak VN. Then finally I want to update the art for Umichan Tap Clicker.
I'm guessing after that It will be time for UMCH updates again.
Speaking of UMCH updates again. I wanted to mentioned what I have planned for later down the road. First is a rhythmic gymnastics club for the actual gym area. currently all you do in that area is go to other areas. I'm not totally sure on the mini-game for this but I have a idea. It would be one of those don't touch the walls kind of games where you control maiko's arm. and need to complete it in a decent time. Hentai for that would be several poses doing the splits, etc in leotard.
Also brainstorming a new cafe-like area. a beach past the city. There maiko can serve ice-cream in a minigame where she needs to make what is requested. Since it is at the beach students will be in the swim attire and casual attire. I plan to have Maiko will pick up pleasure clients here also, might be called something different though. Hentai will involve stuff like chocolate covered boobs with sprinkles. I'm not totally sure who the store owner here will be but I have the basic idea of the store itself. I was thinking it might be cool to have Roise mom as the store owner, maybe she is retired and just does it for fun. in-cream game would be something like the pic below. but of course you would seem maiko boobs and hand holding the cone.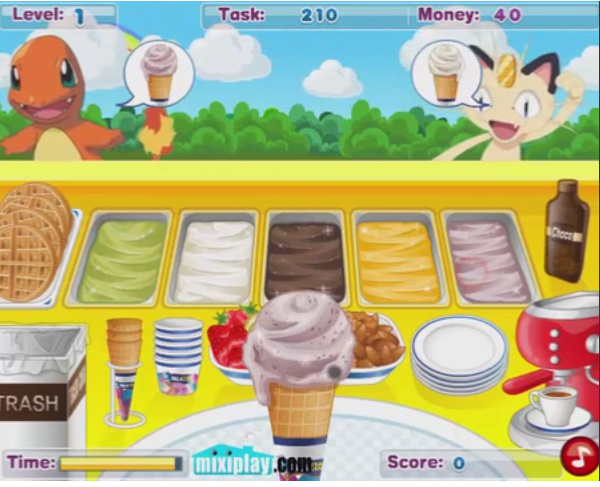 Thing that I will be doing in parallel to all this is. contacting pinoytoons for ARI updates. I wanted to have a few character have idle animations. And polish up that game to explain the combat system better. Also I wanted to take a look at the scrolling ship raiding stuff.
If I get time or burnt out I will begin writing stuff for day 3 of The Rookie.