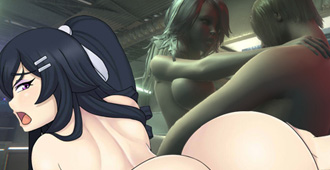 Just wanted to post some quick updates of what I am working on right now.
The UMCH Lite engine I have been working on is mostly done. There was a patreon release of it last month. I'll have an online browser version here hopefully before or during the weekend. I finished importing all characters and their different pieces and parts so they can have different facial expressions and outfits. I also finished and imported a lot of the 3D backgrounds I talked about in earlier posts. I still need to work out how I will handle sounds and background music. This month I plan to recreate Umichan Sorani in the new engine after I get the sound stuff worked out. I will probably start on that in a few days from now.
Meanwhile I have been trying to grind to the finish line on the 3D Arielle game. I have done mission 3 and I'm in the middle of finishing mission 4 (out of 5 total). I also imported in all the 3D sex animations but only half are used in the game right now (since i'm not done yet). I finished the various optional areas and drag race portion of the game. There are also a several things like outfits to unlock. I'll have a detailed post about that later once I finish a complete rough build of the game from start to finish. Similar to this post:
http://spiralvortexplay.com/svp/2020/05/22/3d-arielle-project-updates/
The last mission is not that long it's mostly planned to be just a boss fight.
so for 3D Arielle it's looking like
a 3rd person cover shooter RPG base game with:
5 main story missions (3 have hidden bonus enemies)
3rd person flying shooter segments between missions 1-3
several dialogue scenes that advances the story
10 3D sex animations
13 arena challenges (5 requires unlocking)
drag race minigame
sexy yoga view mode
sexy dance view mode
4 unlockable outfits
I also plan to have various 2D unlockable sex animations once i get this base portion done.
Then I wanted to test the UMCH Lite engine out by recreating Umichan Sorani how I originally planned. Some may remember than game had a segment in there where Zytra runs into random characters in the mall and that encounter can play out different depending on the character. Well now there are a bunch of character in the engine so I wanted to make use of that. Also the game will be is proper 16:9 format and make use of all the additional zytra animations created since the Sorani VN game.
so sorry of lack of posting, It's just a lot to do before the month ends. This is on top of MMD video content, and I've been dealing with car issues since nearly the start of the month.
About Author