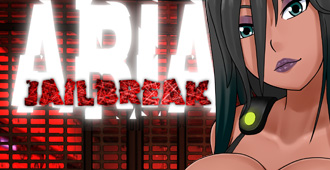 If you like this game please consider supporting the team on patreon!


Direct browser link:
http://spiralvortexplay.com/ARIAVN/
Direct link should work if you don't have iframes in your browser or are on a mobile device.
DOWNLOADS offline:
remember you need to unzip this first

[button color="black" link="https://mega.nz/#!RABnQAiD!Z-EX-lUCCWpPz-uzKkqSZGX_l7hGBXwzJpz–oNFAC4″ target="_blank"]Download (windows)[/button]
This game 4 different endings. 2 of which contain hentai animations~!
This is a very VN small game that bridges the Amp prologue story with ARIA. It shows how Amp escaped GemCo after being captured.
Amp prologue: http://spiralvortexplay.com/svp/aria-amplitude-story-full-v2-1/
ARIA: http://spiralvortexplay.com/svp/flash/advanced-rogue-intelligence-assault-aria/