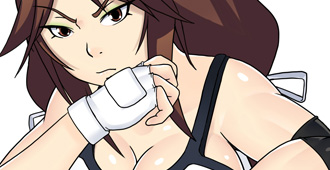 http://spiralvortexplay.com/svp/category/text/script/
this is for boxing dialogue ideas. since I am in a bit of a rush I don't have any to post right now but I will add it later.
For those with ideas these are some things to note:
Boxers include, Joiry, David, Jeni, Maiko, Pattie and Luma
Maiko often practices with Pattie
Luma is there in full boxing attire but doesn't box, she just wears it to be cute and hang around the jocks.
For Maiko to win in beating Luma in boxing she needs to beat Jeni.
Luma or any other ARIA agent character can't participate in boxing (Riley, Lynn, Jinru).
Tom is the club supervisor
Tom is humble and if taunted wont accept any bait
Luma can sympathize with maiko when she say her boobs hurt
Joiry and David hang around this club often
Jeni gets duper defensive if the guys are too rough with Maiko or Pattie.
Jeni secretly like that more girls are leanring how to fight.
Savroi hangs around here sometimes to hang out with Jeni (and be safe from Kyle).
Pattie is always playing pranks on Joiry and David
Amber is around be she likes talking to Pattie and Joiry
Joey sometimes comes by to get stuff for the school paper
Jinru is sometimes there because he is bored.