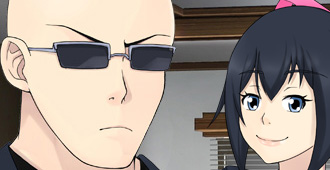 I wanted to make this post to describe how agent missions might go in the new pov game project.
Keep in mind this is when playing as the agent player character. I will have something different for Maiko.
Also keep in mind i'm still not sure if the player will be custom, yuki, or maiko.
It is possible Maiko will be the only playable character and can do agent missions also.
Basically nothing is set in stone just yet.
Missions will be available from Cain, or a mission agent such as Yui or one of the trainer girls when Cain is not there (Keep in mind Cain is usually with Lynn).
I was going to have all this randomized stuff for mission but while typing it I realized how overly complicated this was getting. So instead the player can select from various predefined scenarios. These scenarios are based on both personalities and events from UMCH/CC, and possibly other games like sentoryu, etc.
you won't need to do every mission. in fact some of them them will not be worth doing over others.
below are just some notes and/or examples of what I had in mind. definitely not everything.
feel free to suggest anything to add to these ideas.
overall types of trouble:
pranking
non-consensual photos
sexual harassment
bullying
theft
illegal sex in area
pranking
– pattie/random nude girl – Nanako girls locker (hiding bras)
– roise/random nude swim team member – Nanako girls locker (hiding swimsuits)
– Jay or nude girl – Nanako Hallway – (stealing clothes)
bullying
– David/Leyah/Jay – Mall Arcade (david bully jay out of money)
– Max/Chris – Mall Fitness Center (Max picks on chris for working out)
– Ace/Jay – Mall Fitness Center (brings up past events)
– Joiry/Kyle – Mall hallway (kyle took unwanted photos)
sexual harassment/illegal solicitation
– Albert/Joey – Mall bookstore (inappropriate touching / wtb sex)
– Albert/Savori – Mall bookstore (public masturbation, brings up past events)
– Max/Zytra/Peach – Theme Park Pool (inappropriate touching)
– Ace/Mika – Mall bar (inappropriate touching, brings up past events)
– Alfie/Stacy – Mall Fitness Center (public masturbation)
– Kyle or nude girl – Nanako – Girls Locker room (caught in locker room)
– Jay nude girl – Nanako – Girls Locker room (caught in locker room)
illegal sex in area
Ace/Zytra – Mall bar
Tom/Roise – Nanako classroom
Tom/Maiko – Nanako classroom
Jay/Leyah – Mall Arcade
Delilah/Kyle – Mall Arcade
Joiry/Luma – Mall Pool
Greel/Peach- Theme Park
Greel/Maiko?
Pattie/Kyle – Theme Park
theft
Albert/Mira – Mall Clothing Store (Albert suspected of stealing lingerie)
Ace/Holly – Mall Cafe (Ace refuse to pay)
David/Chris – Mall hallway (David steals Chris sentinel)
Joriy/Kyle – Mall hallway (joiry steal kyle camera.)
troublemaker instigators:
Joiry
David
Max
Kyle
Jay
roise
pattie
august(new)
zytra
Carl
Delilah
solutions to missions
Find – some character are not at the scene and need to be found first. There is a stat for this. Yellow Khalei helps also.
persuade – boobs
**persuade – pov? – pov sex or handjob
small fine (1) – fine the character for small amount of money.
large fine(3) – fine the character for moderate amount of money.
*fight – force the bully to pick on someone capable. has varying effects. some dislike you, some will respect you.
watch – let characters continue and watch what happens.
warn –
arrest – make a example out of this character. loads new random missions and removes all missions with this character in it for the day or until next arrest. influences like/dislike
*situational bullies
**situational harassment