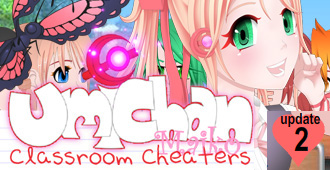 Update: Links have been updated to update 2a

If you liked the game in any way, or want to see the game improved please donate at least $1 at the link below!
I have gotten zero sales since I made the game totally public. Before then I would have multiple sales daily. donations help me improve this game and to pay for assistance in future games to make my games better graphically, and so they take less time to make. I can't provide more game or updates to the public for my more larger games like this if the public does not wish to contribute anything. I will have to only stick to those who donated something in the future.
added/fixed:
custom characters with option for custom sentinel also
tiny content message added to title screen
David fight only happens once
you can now report David if you want at GemCo law Division
bully fights removed (it is really buggy and hardly worth keeping in currently)
anal loop added to sex club workout options
Maiko can now buy more than 1 dildo
the number of dildos Maiko has is shown on the status page on the tablet.
Maiko can use up to 4 different dildos at her home solo
home yuri also makes use of the different dildos.
anal added to all parts of sex club animations
dialogue added at the start of all sex club animations
dialogue added to Coach Tom's scene and buttons
It is possible for Maiko's friends to get cum on their face. (They do not react to it yet when talking to them).
foot job scene added in the school main hallway when Maiko is with a guy that has over 5 relation exp.
it has dialogue also
mild typo fixes
maybe skirt piece bug is fixed once and for all ?
fixed a bug where game would not end if you totally skipped savori quest
(2a) Sexclub Community Service (friend)  fix
(2a) You can easily get into the Gym if you become topless
donations:
http://www.patreon.com/vortex00
http://vortex00.bandcamp.com/releases
report bugs:
http://spiralvortexplay.com/svp/forums/topic/umcc-8×3/
report ideas/suggestions:
http://spiralvortexplay.com/svp/forums/topic/umichan-maiko-classroom-cheaters/page/57/
FAQ:
http://spiralvortexplay.com/svp/2014/04/09/umcc-faq/
Walkthrough:
http://spiralvortexplay.com/svp/2014/04/09/umcc-walkthrough/
modding:
http://spiralvortexplay.com/svp/2014/04/11/umcc-custom-characters/
http://spiralvortexplay.com/svp/2014/03/30/umcc-custom-shirts/
this also contains:
UMCC offline version
UMCC update 1