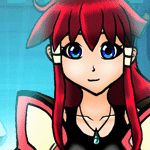 Try to get the highest score!
This mini game was part of the space battle action part in Vandread Love Quest.
you get points when you defeat smaller ships. the key here is to not defeat the boss immediately after it enters. but yo try to delay that as long as possible while you kill the smaller ships.
you can use the arrow keys to rotate your ship.

High Scores
[insert_php] echo myscore_get_game_scores_by_id(10,1886484784);[/insert_php]