Umichan Maiko Classroom Cheaters (UMCC)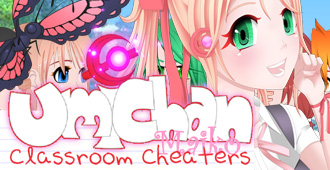 This game took way more time that It probably should have. This online version game is R-18 and heavily compressed with parts of the game removed to fit within the upload limits of newgrounds.
I do not make games for a living. This game was created by me in my free time. This game is game is not intended to be professional quality or taken very seriously. Many things in the game are intentionally funny, wacky, or unrealistic. Just have fun with it. I know the arms look whack but you get used to it I guess. lol
OST:
http://vortex00.bandcamp.com/album/umcc-khalei-butterfly-ost
The album is just designed to be in the same spirit of the game.

I really wanted to put all the music in the game but flash would fail to compile, or do anything if I did that.
It is actually pretty cool I found to just actually turn off the music in the game and just have the soundtrack play.
press Q -> config -> music
The online version had to me made smaller but saved data should be able to transfer should you decide to get the full version. If you have any issues with the online or offline version let me know here so I can get all that sorted out, thanks.
About Author